Synopsis
Black 47 is set against the backdrop of the Great Irish Famine (1845-1852). It tells the story of a young Connaught Ranger who returns from fighting for the British Army in Afghanistan to find his own country ravaged by famine and discovers that his family have been thrown off their land and starved. He sets about finding those responsible, and blazes a trail of death and destruction through the land. When an old army Comrade is given the unenviable task of stopping his murderous spree. The stage is set for bloodshed and mayhem that will test both men to their limits and beyond.
Film Credits
Producer:
Tim O'Hair
Arcadiy Golubovich
Macdara Kelleher
Jonathan Loughran
Writer:
Pierce Ryan
Lance Daly
P.J. Dillon
Eugene O'Brien
Starring:
James Frecheville
Freddie Fox
Stephen Rea
Hugo Weaving
Moe Dunford
Barry Keoghan
More Information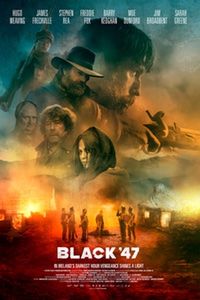 Rating:
15
Suitable only for 15 years and over
No one younger than 15 may see a 15 film in a cinema. No one younger than 15 may rent or buy a 15 rated video work.
Country:
Ireland, Luxembourg
Released:
7 September 2018