77074
Cardboard Gangsters
Synopsis
CARDBOARD GANGSTERS follows a group of wannabe gangsters as they attempt to gain control of the drug trade in Darndale, chasing the glorified lifestyle of money, power and sex. Jay Connolly (Connors) is a part-time DJ and low-level drug dealer. When his welfare is cut off he decides it's time for him and his gang to enter the big leagues. This attracts the attention of the local King Pin and sets Jay down a violent and bloody path.
Film Credits
Writer:
John Connors
Mark O'Connor
Starring:
John Connors
Damien Dempsey
Fionn Walton
Kierston Wareing
Stephen Clinch
Jimmy Smallhorne
Alan Clinch
Paul Alwright
More Information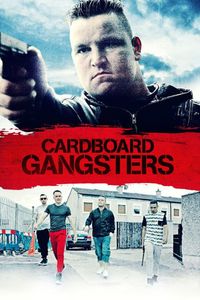 Rating:
18
Suitable only for adults
No one younger than 18 may see an 18 film in a cinema. No one younger than 18 may rent or buy an 18 rated video work. Adults should be free to choose their own entertainment.
Genres:
Drama
Suspense/Thriller