Synopsis
A young couple falls in love but cannot get within five feet of each other without risking their lives.
Film Credits
Producer:
Justin Baldoni
Cathy Schulman
Writer:
Tobias Iaconis
Mikki Daughtry
Starring:
Kimberly Hébert Gregory
Cole Sprouse
Moisés Arias
Parminder Nagra
Haley Lu Richardson
More Information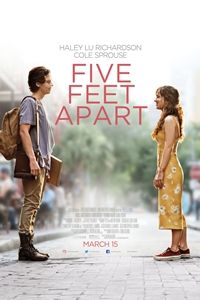 Rating:
12A
12A Certificate
Films classified 12A have been deemed appropriate for viewers of twelve and over. However, they can also be seen by younger children - provided they are accompanied by an adult who has deemed the film appropriate viewing for that child. In such cases, IFCO strongly recommends that parents/guardians make informed decisions by accessing the consumer advice available on this website.
Language:
English, French