Synopsis
The Wishbone family is far from happy. With a struggling bookshop, an overworked husband, and two misunderstood teenagers, Emma is at her wit's end trying to be the perfect mom. After dragging her family to a costume party on Halloween night, they are cursed by an evil witch and transformed into a Vampire, a Mummy, a Werewolf, and Frankenstein's monster. Now Emma will fight to keep her Monster Family together and uncover the secret of their curse… eventually leading them to the Prince of Darkness himself, Dracula!
Film Credits
Director:
Holger Tappe
Gabriele Salvatores
Writer:
David Safier
Catharina Junk
Alessandro Genovesi
Starring:
Jason Isaacs
Emily Watson
Margherita Buy
Fabio De Luigi
Fabrizio Bentivoglio
Valeria Bilello
Jessica Brown Findlay
Celia Imrie
Nick Frost
Corinna Agustoni
More Information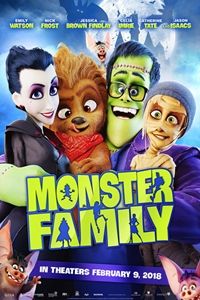 Rating:
PG
Parental Guidance Suggested. Some Material May Not Be Suitable For Children.
A PG-rated motion picture should be investigated by parents before they let their younger children attend. The PG rating indicates, in the view of the Rating Board, that parents may consider some material unsuitable for their children, and parents should make that decision. The more mature themes in some PG-rated motion pictures may call for parental guidance. There may be some profanity and some depictions of violence or brief nudity. But these elements are not deemed so intense as to require that parents be strongly cautioned beyond the suggestion of parental guidance. There is no drug use content in a PG-rated motion picture.
Country:
United Kingdom, Italy, Germany
Language:
English, German, Italian
Genres:
Animation
Comedy
Family
Horror
SciFi/Fantasy