Synopsis
The film intimately follows champion boxer Katie Taylor as she attempts to rebuild her career after a year of turmoil threatened to derail her career. With many writing her off, Taylor decided to start again, and the notoriously private champion agreed to let a small crew document her attempt to rescale the heights. Katie Taylor has won six amateur European championships, five world amateur championships and is an Olympic Gold Medal winner from the London 2012 Olympic Games. She turned professional after a disastrous campaign at the Rio 2016 Olympic Games, which saw her crash out in the first round despite being favourite to win. The film unravels the deeply personal reasons behind the career low and shows the champions grit and determination to start over as a professional.
Film Credits
Producer:
Andrew Freedman
Ross Whitaker
Aideen O'Sullivan
Starring:
Peter Taylor
Katie Taylor
More Information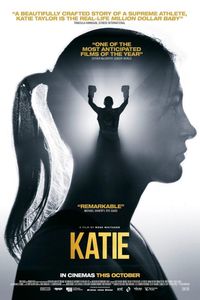 Rating:
12A
Suitable for 12 years and over
Films classified 12A and video works classified 12 contain material that is not generally suitable for children aged under 12. No one younger than 12 may see a 12A film in a cinema unless accompanied by an adult. Adults planning to take a child under 12 to view a 12A film should consider whether the film is suitable for that child. To help them decide, we recommend that they check the Ratings info for that film in advance. No one younger than 12 may rent or buy a 12 rated video work.