Synopsis
Jesse Owens, the son of an Alabama sharecropper, shattered Adolf Hitler's assertion of Aryan supremacy by winning a record four gold medals in the 100-meter dash, the 200-meter dash, the long jump, and the 400-meter relay at the 1936 Berlin Olympics. Owens' accomplishments are considered among the greatest athletic victories of all time. Hitler declared that Jews and Blacks would not be allowed to participate in the Olympics, and only relented when he was threatened with a boycott.
Film Credits
Producer:
Louis-Philippe Rochon
Kate Garwood
Dominique Séguin
Thierry Potok
Luc Dayan
Karsten Brünig
Stephen Hopkins
Nicolas Manuel
Jean-Charles Levy
Writer:
Joe Shrapnel
Anna Waterhouse
Starring:
Stephan James
Amanda Crew
Carice Van Houten
Jason Sudeikis
Jeremy Irons
Shanice Banton
More Information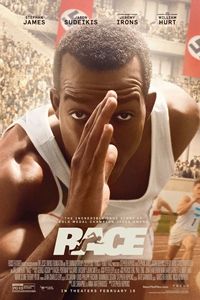 Rating:
PG-13
Parents Strongly Cautioned. Some Material May Be Inappropriate For Children Under 13.
A PG-13 rating is a sterner warning by the Rating Board to parents to determine whether their children under age 13 should view the motion picture, as some material might not be suited for them. A PG-13 motion picture may go beyond the PG rating in theme, violence, nudity, sensuality, language, adult activities or other elements, but does not reach the restricted R category. The theme of the motion picture by itself will not result in a rating greater than PG-13, although depictions of activities related to a mature theme may result in a restricted rating for the motion picture. Any drug use will initially require at least a PG-13 rating. More than brief nudity will require at least a PG-13 rating, but such nudity in a PG-13 rated motion picture generally will not be sexually oriented. There may be depictions of violence in a PG-13 movie, but generally not both realistic and extreme or persistent violence. A motion picture's single use of one of the harsher sexually-derived words, though only as an expletive, Classification and Rating Rules Effective January 1, 2010 8 initially requires at least a PG-13 rating. More than one such expletive requires an R rating, as must even one of those words used in a sexual context. The Rating Board nevertheless may rate such a motion picture PG-13 if, based on a special vote by a two-thirds majority, the Raters feel that most American parents would believe that a PG-13 rating is appropriate because of the context or manner in which the words are used or because the use of those words in the motion picture is inconspicuous.
Country:
Canada, United States, Germany
Released:
19 February 2016
Genres:
Action/Adventure
Drama